Best Aerobic Exercises - Best Cardio Exercises and Workouts to melt your Body fat.
Watch This Free Video Before Anything Else !
How to use Aerobic exercises effectively
Aerobics have been the cornerstone of losing weight. Check these best types of Aerobic Exercises guaranteed to melt your body fat. The secret to Cardio Workouts and Exercises is out.
---
Here i will show you the best Aerobic Exercises to lose body fat, even the most stubborn.
Aerobic Exercises are the best Cardio/weight Loss exercises and bodybuilders swear by them. They provide a sustained calorie burning effect unmatched by any other exercise. No wonder experts call them "the real secret to permanent fat loss". Read about the Benefits of Aerobic Exercises here. Remember they are different from Anaerobic Exercises.
To repeat the Magical 2 step formula I discussed in Weight Loss Exercises Section,
Step 1 } Lower your calories
Step 2 } Increase the amount of calories you burn.
Burning Calories, here is where Cardio exercises come into the picture.
This section deals with the best exercises only. Check the Weight Loss Exercises section to get started on your Weight Loss Goal. Come back here to learn the best exercise methods.
Now lets get to the Best Aerobic/Cardio Exercises
Recommended types of Aerobic/Cardio Activities
Walking, Running, Jumping Rope, Ski machines, treadmills, rower, health rider, aerobics to music, aerobic videos,
1. Walking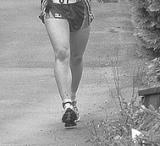 Just starting out on your weight loss goal? Not been working out lately? Then walking is for you. Although the fat burning potential in walking is low, its a great place to start.
With time you can jog and increase the intensity level burning more calories.
I have added cool tips on walking exercise here. In fact I have walking as part of aerobic workout program at home here.
2. Stepping
Its a great exercise as it can be done at home with a simple chair or a flight of stairs in your apartment.
This is performed by merely stepping up and down from a chair (or bench or stool) to the floor and back.
Do it with one foot first, rest and repeat with other foot. Add more repetitions every week.
In the active rest period you can do crunches or push ups until your lower body refreshes.
3. Running/Jogging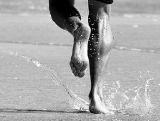 Do you love outdoors? Want some fresh air with exercise? Then Outdoor Jogging is the way to go.
The greatest benefit is for your lungs and heart.
Also if you are just starting out on your weight loss expedition then outdoor jogging is best for you. Early morning or evenings are best to perform these activities in a quiet environment.
Many experts rate this as the best Aerobic exercise with a high fat burning potential.
Injuries can result from overtraining  may be the reason you should avoid them, especially is you have a previous history. Consult a doctor though.
4. Outdoor Cycling/ Stationary Cycling
It is an excellent aerobic exercise and you can have fun doing it. Hey who doesn't like Mountain biking or cross country cycling. whenever possible get away from gym for such exhilarating activities.
Stationary Cycling is also a great way to burn calories.
Outdoor cycling is much better than stationary cycling though as it uses the wind effect and results in development of balanced muscles unlike stationary cycling which can cause muscle imbalances.
5. Treadmills/Rowing Machines/Ellipticals/Stairclimbers
Here you can combine walking, jogging and add resistance as well. The fact that you can perform high intensity exercise with a treadmill makes it very effective for fat burning. I have added treadmill workouts for advanced trainers here.
Rowing machines are a whole body exercise and can greatly burn calories.
What types of Exercises are considered Aerobic?
Any Exercise that increases the heart rate into a target zone and maintains it for at least 20 minutes is considered Aerobic. See how recreational sports fail this test. They do not provide a sustained effect on the body.
How much aerobics is sufficient?
My general guideline is to perform 30-45 aerobics with moderate-to-high intensity 3-5 times a week.
For Calculating Target Heart Zone, how to monitor heart rate, calories burned during aerobics and planning your Weight Loss Exercise Plan check the Fast Weight Loss Section.
Add Weight Training to Cardio for real results
Add a Weight Training session to your aerobics at least 3 times a week. Aerobics and Weight Training works together helping you burn fat, preserve Muscle and get tones.
Always remember the Key to a better body is Consistency. Nobody lost fat and got fit without this one fact - Consistency.
If you remain consistent you will change the way you look. I promise that to you.
ExerciseGoals.com Recommends - Burn the Fat Feed the Muscle
The best way to get hold of your Body Composition and get a fitter and trimmer body is Burn The Fat Program By Tom Venuto.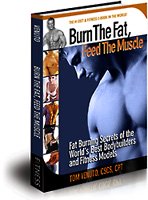 Click here to read how Tom Venuto is helping people shed pounds of Body fat and get a life for a change.
Related Articles and Websites
More Weight Loss Exercise Articles
Have A Great Aerobic Exercise tip or Workout?
Do you have a great aerobic exercise or workout? Any favorite exercise or training tip? Share it!
What Other Visitors Have Said
Click below to see contributions from other visitors to this page...

Common Aerobic Exercise and Workout Questions and Answers - FAQs
1. Any aerobic exercise you can do at home?
Just about all aerobic exercises can be done at home.
2. How many carbs do I need to eat day fuel my aerobic workouts?
The amount of carbohydrates you need to eat each day will depend on various factors such as your current weight, what your goal is and how much you are working out. There are online calculators that should be able to help you come up with the exact amount.
3. Is milk bad before aerobic exercise?
While milk is not bad for aerobic exercise, it is important to make sure that you are not drinking too much as it can be a factor in weight gain.
4. How to do water aerobics?
You will want to stand in water that is no higher than your stomach. This will allow you to have a little more freedom of movement. Follow the instructors guidance, but be prepared to be a little slower than others at first because you have to get used to the water resistance.
5. Which gets rid of flabby skin better: aerobics or strength training?
Actually a combination of both is needed in order to properly and quickly get rid of the flabby skin.
6. Do water aerobics to lose love handle?
Yes, you can do water aerobics to lose love handles. Such water aerobics are taught at many gyms that have a pool.
7. How fast can I lose weight doing water aerobics?
You can lose weight just as fast with water aerobics as you could with regular aerobics. In fact, there are even some people who say that you can lose weight faster in the water as there is more resistance.
8. How often to do aerobics?
Even though aerobics can be done every day, you will find that taking at least two days off a week if going to be the most beneficial for you.
9. How to mix music for step aerobics?
You want to make sure that the mix music is not only something that you are personally going to enjoy, but that has a good steady beat. Think of aerobics like dancing, with the mix music, you are going to find a rhythm to work out to.
10. Is step aerobics dead?
Step aerobics is not dead, even though it seemed to lose some popularity for a while. It is surely making a comeback though.
11. Are there dance moves that can be done in water aerobics?
There are a lot of dance moves that can be done under water. The only problem you will encounter is that with the amount of resistance you will have with the water, your movements are going to be much slower and may not look as graceful as it would if you were not in the water.


Go Back to Top of Aerobic Exercises and Workouts Page
Home
›› Aerobic Exercises