Hardgainers Muscle Mass Gaining Exercises, Workouts, Routines & Diet Tips
| | |
| --- | --- |
| Weight Training and Muscle Building tips for Hard Gainers. An amazing 3 step Formula to pack on Muscle mass for hardgainers by a skinny guy who is skinny no more. | |
Have a problem putting on Weight? No improvement no matter what? Then you are a Hardgainer right? Majority of people who consider themselves hardgainers are actually not weight training and eating correctly and I will show you how to pack Muscle.

Now there is no excuse to fail

Remember Confusion is your only obstacle and with these tips and a little consistency you will get out of the skinny Hardgainer community and join the bigger guys.

Body Type and Genetic Limits

| | |
| --- | --- |
| Hardgainer are usually Ectomorphs with low body fat, small bones, high metabolism and very little Muscle mass and therefore called Skinny guys or skinny girls. | |
Your genes do decide the rate at which you burn calories and the rate at which you build Muscle. Hardgainers shed off calories and are usually envied by food lovers with slow metabolisms. This is sometimes a blessing but only a skinny guy/ girl knows the real problem.

Make no mistake. Weight Training and correct Muscle Building Nutrition is the only solution to this problem. Weight Training is the best way to create a muscular awe-aspiring physique.

Curse or Blessing

Being skinny is neither a curse nor blessing. Its certainly better than being fat!. But its a challenge. The Only Question is are you up to the Challenge?

Note - If you haven't then Download theFree ebook The TEN Commandments of Weight Training right now and get started on a Killer workout today.

Hardgainers 3 Step to Build Muscle Formula
Step 2 - Muscle Building Workouts
Step 3 - Muscle Building Nutrition
The all important Step - Consistency.
No Nonsense Muscle Building by Vince Delmonte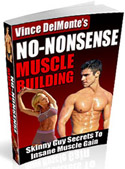 Vince Delmonte's course is also called "The Skinny Guys secrets to Insane Muscle Mass".
Read a complete review of No Nonsense Muscle Building.
Step 1 - Its Decision Time - Set a Focused specific Goal

Your Goal should be to gain Maximum Muscle in minimum time without concentrating too much Body fat increase. A 100% commitment to this goal is absolutely crucial and everything we talk from now on is to Pack on Muscle.

Think like a Muscle Builder, act like a muscle Builder and then you will be a Muscle Builder. Make a 12 week Goal, a weekly goal and a daily goal and take it one day at a time.

Muscle Building Mindset is very crucial.

Example - To Gain 10 lbs of Muscle in next 8 weeks. This is a wonderful goal and believe me if you have been thin, 10 lbs of quality Muscle will very much change the way you look. Trust me on this.

Write down your goal everyday. Ha. What a Joke Mateen!! Not many people who read this exercise actually do this and not many people reach their Muscle Building Goal either. Ignore this tip on your won peril.

Now that you have decided a very specific Goal, written it down and made a promise to yourself that you will think and act Muscle, lets get down to create a Muscle Building Workout Plan for you.

Step 2 - Muscle Building Workouts

Rule One - Go Heavy

Heavy Duty training is the only way to force Muscular gains. Heavy Weight Training forces your body to build muscle and get ready for the next assault. This is a thousand dollar and dont-waste-5-years tip.

Rule Two - Focus on Free Weight Compound Exercises

Heavy Bench Press, Heavy Deadlifts and Squats are the 3 Big Muscle Building Exercises. Ensure that you perform them without fail. These Multi-joint exercises involves the largest Muscle Groups forcing your body to grow.

The Muscle Building Workouts Section will create a personalized plan for you.
---
Download your copy of the FREE Weight Training ebook The TEN Commandments of Weight Training Today!
Hardgainers there is no excuse for learning the Best Muscle Building Exercises! Download the FREE guide, "The TEN Commandments of Weight Training" now and see the results in your next workout.
---
Rule Three - Sets and Reps

Perform 8-12 sets per body part and keep rep range between 4-7.

Exercise each body part not more than once a week and each training session should last for not more than 60 minutes.

High Intensity Training

Every moment in the gym remember that training with high intensity brings results. Get out of your comfort zone and train heavy. Keep adding more and more weights even if a 5lb additional plate, add it. Keep increasing your intensity from workout to workout.

Weekly Improvements

Maintain a Weight Training Journal. Don't trust your memory. Write it down. This will ensure that you will never guess your weights.

Never lift the same weights on Successive weeks. Add more weights to every exercises every week. If you find it difficult to add weight then perform a few more reps. But always push your body beyond the last weight training session. Period.
Now go to Weight Training Workouts Section and Pick up a Plan and Get started.

Step 3 - Muscle Building Nutrition

99% of people who call themselves Hard Gainers are actually Under eaters. When I say this many people complain, hey Mateen I eat so much more but still no weight gain.

My Response - Eat more, train harder and rest better.

You will never know the calorie barrier required to build muscle until you see changes.

Tips

1. A General formula is 20 times the Bodyweight in pounds = Your required Caloric intake.
For example a Bodybuilder with 150 lb body weight should consume 2700-3000 calories per day.
2. Make sure you eat at least one gram protein per pound of your Body weight.
3. Take 3-4 tsps of Flaxseed Oil or Fish Oil per day.
4. Eat small frequent meals. This ensures a Positive nitrogen balance. Eat every 2-3 hours, a portion of complex carbs and a portion of Protein.
5. Add a Post workout Protein Shake and a piece of fruit immediately after workouts.
6. Plan your Meals in advance and carry them if you have to.
7. Never miss a Meal but when it happens do not dwell up on it. Get on with the nest meal. Make the next meal bigger.
8. Drink water every hour. I have found this technique very useful. Every time the Hour hand is on 12 I get up and drink a glass of water.
9. Sleep every night for at least 7-8 hours. Remember you grow when you rest and not while exercising.
10. Add 200-400 calories every 2 weeks if you are not gaining at least 1 lb Muscle every week.
These 10 Tips will ensure that you will reach your Muscle Building Goal. Try them and in 8-12 weeks a new life will begin.

The all important Step - Consistency.

I can write a whole book on this topic. But I will Just put these final words.
Consistency separates the Winners from Losers. If you cannot remain consistent then accept the fact that you will always be thin and skinny.
But haven't you had enough. All your life you have been skinny. Is 8-12 weeks of consistency not worth it? Better looks, new clothes, self-esteem and attention from girls is too good a reward for these 12 weeks.
Give it all and I promise you will never be the same again.
No Nonsense Muscle Building by Vince Delmonte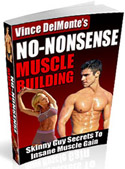 Vince Delmonte's course is also called "The Skinny Guys secrets to Insane Muscle Mass".
Read a complete review of No Nonsense Muscle Building.
Have A Great Muscle Building Tip, Exercise or Workout?
Do you have a great muscle building tips that worked for you? Share it!
What Other Visitors Have Said
Click below to see contributions from other visitors to this page...

huge weight gain Not rated yet
i used to be 130 pounds (and i'm 6 feet tall!!) before trying a few new things taught to me by my friend. he told me "its all about what you eat" and he …
1. What is a hard gainer?
A hard gainer is someone who does not have the genetics to build muscle fast. These people may have to work harder than most to build any muscle. They are typically people who are very thin with little natural muscle tone, but almost anyone can be a hard gainer.
2. How can you tell if you're an easy hard gainer?
A hard gainer really is someone who is an ectomorph. If you have any other body type then you are not a hard gainer. Some people may find it easier to gain weight, even if they are an ectomorph, due to working harder, not due to being an easy hard gainer.
Hopefully, these questions and answers cleared some things up for you. Chances are that you have wondered many of these things and just not know where to find the answer. In time you will begin to understand and see how you can apply these things to your own weight lifting routine.
Go Back to Top of Hardgainers Page
Go from Hardgainers to Weight Training Homepage.