Sports Training - Sports Weight Training - Specific training for sports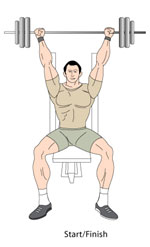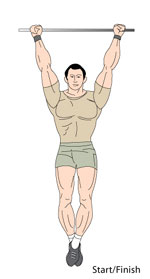 Why Weight Training for Sports is so Effective
Sports Weight Training for your Specific Sports. Build strength, flexibility and excel in your chosen sport with these Weight Training for Sports tips and exercise methods.
Sports Weight Training has a specific purpose - to develop muscular strength to a basic level which allows the sportsmen to perform at optimum levels.
Then you need to develop the necessary muscle groups which are specific to your sport.
Sportsmen all around the world are seeing the benefits of Sports Weight Training and so should you.
Today sportsmen are stronger, faster, more flexible and fit than ever before, thanks to Weight Training and conditioning.

Weight Training for Sports or Weight Lifting

When training for sports you have to understand the difference between Weight Training and Weight Lifting.
Weight Training Exercises is the use of Resistance Equipment to help stimulate Muscle Growth, increase tone and strength. Its different from Weight Lifting or Power Lifting whereas Weight Lifting is a sport judged by the amount of weight a competitor can lift for a repetition only. Its different from Weight Training or Bodybuilding.

You as an athlete should concentrate on Weight Training, both generalized weight training and sports specific ones.

General Weight Training will help build overall muscle and strength and make up for any muscle imbalances. Specific training involves movements of limbs and body position resembling the specific skills used in sports by combining Weight Training, Plyometrics and functional training using ball workouts and shots.

Before going to Sports Weight Training for specific sports, I will give you a few tips which are very crucial to build the strength, muscle mass and flexibility you are looking for.

Sports Weight Training Tips for the Modern Athlete

Set up a basic level of Weight Training Program to build your overall physique. You can then develop the specific areas and skills required in individual sports.

Decide on an overall bodyweight required for your sports and make plans to build your body to its best level.

Warm Ups and Stretching are very crucial to a flexible strong body. Ignore them at your own peril.

Compound Exercises with Free Weights require better co-ordination, more muscles and therefore the best exercises to Build strength and muscle mass.

Have a separate weight training program for both on and off season using Macrocycles and Microcycles.

Weight Training will help you reduce injuries so crucial for optimal performance.

Learn the Best Weight Training Exercises and perform then correctly.

Correct Diet and Nutrition ensures your Weight Training sessions will bear fruits. An Athletes' diet can make the difference between winning and losing.

Rest is very vital to grow both in strength and muscle mass.

Pass the patience and persistence test so crucial to reach your Weight Training goals.


Specific Weight Training for Sports

Runners require strong leg biceps and hamstrings, Golf demands strong shoulders and back, tennis concentrates more on one body part.
These are specific areas where you need to concentrate in your chosen sport. We will deal with the specifics later. As of now your job is to build a solid foundation for your sport physique.
Developing sports specific skills and then improving on your muscular endurance and strength is your primary goal.

Sports and The concept of Specificity
Specificity in sports weight training simply means that exercises that simulate the specific body movements in sports should be used in addition to the whole body exercises.
Although overall Weight Training should be the base, the specific exercises to train your sports skills will give you the competitive edge.
I will help you decide the best exercises for individual sports. Lets get rolling.

Related Sports Weight Training Articles
Softball

Weight Training

Football Weight Training
Basketball Weight Training
Golf Strength Training
Weight Training for Runners and Athletes
Weight Training for Baseball
Weight Training for Cycling
Weight Training for Boxing
Weight Training for Speed
Weight Training for Wrestling
More Resources
---
Related Website
Visit Badminton website by Chau Yap. Do check out their Badminton Drills and Badminton Coaching Holidays Section too.
"If you are interested in college sports, check out this great college sports fan site about Southeastern Conference Sports --SEC Sports Fan. Dont forget to check their SEC Football Section.
Best Basketball Tips - In addition to exercises mentioned at EG.com, you will need high quality Basketball Conditioning. Check Trajko's Basket Ball site. Also check his Jumping Exercises for Basketball Section.
Best Weight Training Workouts and Routines.
Go Back to Top of Sports Weight Training Page
Go from Best Sports Weight Training to Weight Training Homepage.
Why not share your favorite Killer Workouts with Us?
Do you have your own Weight Training Workout proven to work for you? Why not share it with us and help others reap similar rewards from your workout.
Read more Visitor submitted Workouts and Tips
Click below for more workouts and user tips.
great article

I am very glad to read the post,it is very well written.You have done hard work in writing this post and i impressed your work. Godaddy renewal …
Football Weight Training Program - Weight Training Program for Football Players

Weight Training For Football can help you become stronger, faster and Build Your Stamina for Best Football Strength and Conditioning. Free Football Weight …