Vince Delmonte Fitness | No Nonsense Muscle Building Review
A Complete Review of Vince Delmonte Transformation and his No Nonsense Muscle Building Program. Pros & Cons and Eg.com's rating of this Muscle Building Program.

Overview of this article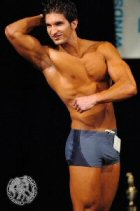 Vince Delmonte once a 149lb scrawny guy is today a H.B.K Certified Personal Trainer with an impressive 190 lb muscular body. He is a completive Fitness model and has won first place in 2005 Canadian Fitness Model Championship. But for our reasons he is the author of the E-book No Nonsense Muscle Building, a Muscle Building guide for hard gainers and Skinny guys.

The No Nonsense Muscle Building Course Review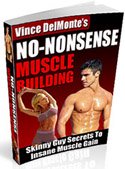 Vince Delmonte's course is also called "The Skinny Guys secrets to Insane Muscle Mass".

Its a course for skinny guys to add Muscle mass faster. Being a skinny guy himself and having added pounds of Muscle mass, Vince Delmonte has decided to share his secrets which he discovered in his Muscle Transformation journey.

The e-book starts by what Vince calls the Top 14 mistakes to avoid before you even start wherein he includes a lot of motivational tips to help you get started and how think, plan goals and take actions on them. I found it very motivating.

The chapters on 12 Bodybuilding myths and How to Build muscle has lots of so-called principles. I think in this information overload world Vince had no choice but to re-write the script for skinny guys as I too believe that the Muscle magazines and steroid-induced bodybuilders often mislead the youngsters.

Vince has an interesting style which keeps the reader on the toes. His course has a lot of information as Vince uses lots of established facts and down to earth common sense when he explains how the methods he teaches will help you build muscle.
I found the principles he discusses easy to grasp and very cut-through basics. Before going in to the details of the workouts Vince explains the theory behind it.
Vince also includes Muscle Building Diet tips, supplementation and how to prevent Training Injuries.
Also included in the e-book are Stretching and Bodyweight Exercises. I found them a good surprise.
Instantly downloadable e-book No Nonsense Muscle Building.
29 week step-by-step intensive workout program for beginners and intermediates
29 week step-by-step intensive workout program for Advanced Trainers.
12 week healthy meal plans
Virtual exercise demonstrator
Unforgivable sins audio program and
24/7 personal training access to Vince himself.
All of this backed by an Unconditional 8 week money back guarantee.
Pros
It is a well written complete Muscle Building Program with excellent workout plans and meal plans.

The Muscle Exercises and Nutrition strategies are by far the best than any other program out there. I also liked the Supplementation section.

Since Vince was once a skinny guy with fast metabolism the tips he gives out are time tested and proven. Its not like a muscle guy who was a mesomorph to start with giving tips to ectomorphs.
Cons
Too much information. Sometimes the very purpose of this guide which is to eliminate the Muscle mass confusion can be questioned. There are simply too many points, too many things to remember in a workout and too much scientific facts and theory. But who can Blame Vice for this. Its a must to clear so much misinformation about Muscle Building out there. You decide if this is a plus point or minus point.
But if you read it a couple of times with attempt to understand and remember what Vince teaches I think a lot of things will be more clear.
With Fitness experts like David Grisaffi and Nick Nilsson calling No Nonsense Muscle Building Program, you cannot go wrong with it.
ExerciseGoals.com gives Vince Course a 4.5/5 rating.
The cost of the Program is 67$. The Processor is click bank and you can pay either by card or a Pay pal account.
Back to Weight Training Tips Homepage.