Weight Loss for Teens - Top 5 Easy & Free Teen Weight Loss Tips
Losing Weight is difficult, lets face it!
But with these Teen Weight Loss Tips your people can lose weight faster and gain muscle and strength to excel in sports and life.
Teen Obesity has become a common problem in world today, more so in America.
High calorie instant fast foods and sedentary habits like watching TV and playing TV or Internet games are the biggies.
If there is any good news coming out of it, it is that once you learn how to lose weight and adopt healthy eating and exercise habits in your teen years, you will find it easier to maintain them for life.
Here are my Top Seven Weight Loss Tips for Teens
1. Identify where you lie on the Overweight continuum.
Knowing where you are will help you make realistic Weight Loss goals and easily track them.
Body Mass Index
Normal BMI is between 18.5 and 25

Overweight BMI is between 25 and 30

Obese BMI is between 30 and 35.

Clinically Obese BMI is between 35 and 40.

Morbidly Obese BMI is above 40.
Click here to find out your Body Mass Index.

2. Identify the Key Factors for your Weight Gain
Weight Gain causes can range from hereditary to emotional eating. What are the causes for your or your Child's weight gain?
Is it seclusion, easily available high calorie foods, friends, lack of play, inability to get along with friends and peers in sports?
Emotional eating is now a well defined term. Make sure you contact a Registered Dietician in case you suspect any eating disorders.

3. Make a Plan for Losing Weight
Once you know how overweight you are and the reason your engage in over eating, you can make a plan for your weight loss goal. Use the Tips in the Weight Loss Tips and Weight Loss Exercises sections to learn more on weight loss methods.
Also you can try the Burn the Fat Program I suggest. Its an excellent way to lose weight and develop fitness habits for life.

4. Take help from Parents, friends and Support groups.
Asking for help is not a sign of weakness. It takes courage to acknowledge that you need help. Also there is the accountability factor. If you have to answer someone for your eating and exercise habits, then chances are you will do the required thing. Hey isn't that the reason you finish your everyday home work.

5. Carry out your Plan for next 4 weeks.
Since we are what we repeatedly do, I suggest that you try the weight loss tips at least for 4 weeks without looking for fast weight loss. Once these habits are set in stone, weight loss becomes a must as your body will have no option but to lose fat and get fit and trim.
ExerciseGoals.com Recommends - Burn the Fat Feed the Muscle
The best way to get hold of your Body Composition and get a fitter and trimmer body is Burn The Fat Program By Tom Venuto.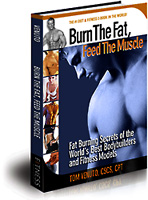 Click here to read how Tom Venuto is helping people shed pounds of Body fat and get a life for a change.
Related Articles and Websites
More Weight Loss Exercise Articles
Back to Weight Training Homepage.