What to Look for in a Gym - It can make the Real Difference
The exponential growth of Weight Training has led to opening of hundreds of gyms.


But are all gyms the same?


NOPE!


Don't even enter a gym before reading these must have facts on equipments & Gym Membership.
From High School kids to university professors and from recreational bodybuilders to Olympic Athletes, Weight Training is creating some amazing changes.
As easy as it is to find a gym, not all gyms qualify to be "The One" for you.

Gym Memberships are available today on weekly, monthly and Yearly Basis.

What to Look for in a Gym

1. Size does Matter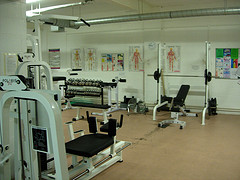 Photo Courtesy: http://www.flickr.com/photos/thekillerbiscuit/with/49593707/
Both Gym size and Members size - Nothing is more frustrating than waiting for turns and see your body cool down. The Gym should have good size and Weight Training and Aerobic Section should be separate.

2. Proximity - Always ensure your gym is close to your home or office if you exercise at lunch. You do not want your lazy thoughts like, "the gym is too far" or "today traffic is hectic".

3. Are the Gym Trainers Certified? Its best if they are Certified by either ACE, NSCA or ACSM.

4. Atmosphere and other Gym Members
Don't get too fancy here. Remember why you want to come to Gym. Get your work done and get out. Clean carpets, good lights and Yes, Music. Music always helps. Nothing is more exciting than Eye of the Tiger behind your tough Bench Press or push you on that treadmill.
Don't join a gym with too many seniors or rehabilitation member unless you are one of them.
Its obvious to avoid gyms in high traffic areas for air pollution reasons.
Also make sure you pay your gym a visit at a time when you schedule to exercise daily. If the gym is too crowded then you can change your schedule.

5. Look for all the equipments
If you want to make the most out of a gym then it should have ample supply of Free Weights, Dumbbells, Benches, Treadmills and Aerobic Section.
Do you like a few Cable sets? Want to do lots of bench moves and free weights?. Look for all these features before you join.

6.The Gym Coaches
Most of the well equipped Gyms do have their own Coaches to help members lift better and smarter. Always ask the coach to watch your movements during exercises and correct you if necessary.

7. The Gym-Chain
Many world class gyms have a chain of gyms and a member can workout at any of their branches. This is an added benefit for traveling people.

8. Other Factors to consider
Factors like proximity, other related facilities like a sauna or massage may or may not be your bother. But lockers, bathing areas and changing areas are a must.
If you are a parent ask for day care if available. Its a good way to let your kids get involved in active lifestyle as well. Kids learn by seeing don't they?

9 All said and done do not forget word of mouth help. Ask anyone whom your admire or would like to train with where they train and if you can be training partners.


Enjoy the Workouts
Many experts say that gym is not a place to socialize. I partly disagree.
I have found my best friends at my gym. Gym is a great place to meet like-minded people, only if you know how not to get distracted.
These Gym friends can become Trainingpartners, helping each other grow beyond their imagination. Motivation is a great factor and a training partner can just provide that at the right time.
Also it makes your Exercise Goals a little more pleasurable. Remember the Journey is the Reward. Enjoy the stay at gym. Train hard with your best intensity, help others with a push here and a push there. You will love your new friends.

Don't Miss
---
ExerciseGoals.com Recommends - Building Muscle Program
Dont Set your foot in the Gym before you read this!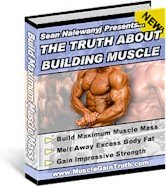 Muscle Gain Truth Program Truth Program
Read here about Sean Nalewanyj's inspiring story and see for yourself if you can be the next testimonial.
---
Related Articles
Back to Weight Training Homepage.
Weight Training Quick Links
Body Types |Gym Membership |Weight Training Workouts |Weight Training Benefits |Beginner Weight Training |Advanced Weight Training Tips |Home Gym Exercises |Weight Training at Home |Weight Training Software |Weight Training Journals/Logs |Weight Training for Kids |Weight Training for Seniors/Elderly People |Weight Training for Middle Ages Men over 40 | Weight Training Videos | Weight Training Tips & Exercises |Upper Body Weight Training |Before/After Weight Training Pictures |
Back to Weight Training Exercises Homepage.