Back Exercises at Home | Back Workouts at Home
Why Back Training At Home can be fun and effective?
Back Training at Home is very easy. All you need is a barbell and a few free weights. Dumbbells are an additional advantage. Now its time to learn bestBack Exercises & Workouts at Home.

Love to do your Weight Training at Home? or just for a change? Any way I will show you how to have an awesome Back Workout with these amazing Back Exercises which can be done at Home.

Make sure you have the basics of Weight Training at Home [opens in a new window]. It is really helpful and will get you started on your Home Weight Training. Alternatively if your are looking to workout without weights check the Body Weight Exercises Section.

Like Shoulders, Training Back at Home is easy and simple. With few free weights and a bar you can get started immediately. Compare this to Chest which require a bench for workouts.

Essentials of Back Training at Home

What you need?
A Barbell, a few free weights, a chin up bar and Dumbbell which are optional. Few basic Weight Training equipment will help you perform a complete whole body workout at home in addition to your back training.

How to get started?
Back is the second largest Muscle in the Body. Make sure you stretch your back and perform a good warm up before you hit the weights for an intense brutal workout. Also read the Critical Points in Back Training here [opens in a new window].

Back Exercises at Home
There are 3 exercises which must be a part of your every Back Workout.

Chin Ups build your entire shoulder girdle and are a must for all trainers. I have included barbell rows as it is the best back exercises targeting a large portion of back muscle and Deadlifts are the King of all upper body exercises.
---
FREE ebook to Blast your Muscles now!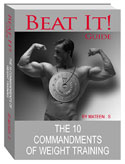 Finally an ebook combining Best Exercises with right eating tips..Click here to Download the ebook "The TEN Commandments of Weight Training" absolutely FREE of charge. Its a 29$ Value but your Free Today! [opens in a new window]
---

Additional Back Exercises
These exercises will help you add variation and avoid boredom. Also hitting muscles from new angles is an excellent way to develop new neural connections thereby stimulating faster muscle growth.

I have made creating a Back Workout very simple. Just visit the Back Workout Section where you will find sampleBack Workouts which you can use instantly. I have also divided them in to Upper and Lower Body Workouts for people looking for specialized training.
Back to top of Back Exercises at Home Article
Back to Weight Training Tips Homepage.