Weight Training Equipment Reviews - Used & Discount Weight Lifting Equipments
Reviews of the best and worst Weight Training Equipment, benches, dumbbells, barbells, racks and Home Gyms. Also check the free Buyers Guide, a free guide to make the best Weight Training/Lifting Equipment buy.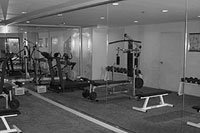 Looking to exercise at Home or want to start a gym of your own, the Weight Training Equipment Center at EG.com will help you buy the best equipment.

Weight Training Equipment Buying Tips
Buying Weight Training Equipment will depend on your Goals. If all you want is a firmer body without adding to much muscle mass then a pair of adjustable Dumbbells sets is all that you need.

But if you are Looking for a Total Body workout then it calls for a Home Gym. A Home Gym can range from a simple set of dumbbells, a barbell, a bench for chest press to a complete Home Gym with Lat Machine, Chin Up bars, Leg Press Machine and Chest Flyes.
 
Measure the space you have for your Weight Training Home Gyms. The last thing you want is the weights crashing through the windows.
 
Ignore the unscrupulous claims Fitness Equipment Industries claim. They want to make their advertisement claim results as effortless as possible. Why do they do this? Simple - Quick and Easy sells.

So next time when you hear equipment companies [or anyone who wants to sell for that matter] that you can build muscle and lose weight in no time don't walk, run the other way. Spot reduction i.e. reducing body fat of a particular body area is not possible.
 
Have you seen the small asterisk near the results claimed by equipment companies? It says that results are not a guarantee and requires more than just exercise.
 
Get in to the Exercise habit before you buy serious equipment. If you are getting started then I suggest that you buy a pair of dumbbells in the beginning. And then slowly once you get the feel for it, you can with confidence go ahead and buy a total Home gym.
 
Buy what works not what sounds well. Avoid trendy equipment you see on TV. They will steal your dream for a better body.
 
Buy the equipment which you decide to work. Don't get trapped by I need it all syndrome. You don't have to buy the Ab machine if you can manage with Abdominal Crunches.
 
Make sure that the Equipment companies provide warranties for their products. And make sure the warranty is long term, We are talking about Iron here and we know it remains usable for decades.
 
Ordering over the net is easy and fast. But whenever possible visit the offline store to get a hands-on test drive. Also make sure that the salesman demonstrate the entire functioning of the weight training equipment you are going to buy.
 
Always remember, the equipment works only if YOU work it. Its your efforts at last which will show you the results. Use the Weight Training Tips I provide and together with your training equipment you can blast your body to a newer level.

Have I scared you to death?
Don't be. In fact the fitness equipment industry has improved so much in the last decade that they are today giving up to 10 year warranties on their products. Not to mention they are high quality products.
Choosing the right training equipment.
How to use exercise equipment safely
How to Select Used Exercise Equipment
---
Related Websites
New Articles on Weight Training Equipment
Common Visitors asked Weight Training Equipment Questions and Answers – FAQs
1. What is the best exercise equipment for weight loss and muscle increase?

The best exercise equipment would be free weights. This includes both barbells and dumbbells. Use cast iron weights and avoid those made from vinyl. It is free weights that are employed by professional bodybuilders. Keep that in mind at all times!

2. How to lose weight fast without equipment?

Simple walking, running, or jogging would be the best way to melt off fat without the need for any equipment. You could also combine the three into an interval training program.

3. Popular exercise equipment that help you lose weight?

The sheer variety of name brand exercise equipment would be almost too huge to list. Among the top name brands would be Gold's Gym, Weider, and Total Gym. Read more about Weight Loss Equipment here.

4. How to lose weight doing only crunches/no equipment?

It would be difficult to lost a lot of weight doing only crunches since they are designed to help develop the abs as opposed to burning calories. But, if you wanted to enhance calorie burning potential, performing high reps of crunches would be the approach to take.

5. How to use cardio equipment and lose weight how long speed incline?

Losing weight with an incline will aid in burning calories merely due to the added gravitational pull. If you were to increase the speed on the equipment, you would experience an even greater amount of calories burned.

6. What are the best exercise equipment to lose weight at Home and in the gym?

Cardio devices such as the stair master, elliptical trainers, treadmills, and the classic exercise bike would all be excellent for burning off fat at the gym.

7. What gym equipment is best for weight loss in stomach and thighs?

There is no such thing as any piece of equipment that would burn fat in the stomach or thighs. You can employ equipment to build muscle, however. Crunch machines would be fine for the abs and the leg extension or Smith squat machine would be perfect for the thighs.

8. What is Isotonic weight equipment?

Isotonic is a popular name brand in weight lifting circles and it is known for producing some truly excellent and well reviewed devices on the market.

9. How do you use the Matrix weight machines?

These machines employ a hydraulic system. You would use them in the same manner you would work out on free weights with the obvious difference being you would need to alter your exercises to address the variant design of the system.

10. When women start exercising with weight machines do they gain weight?

If they are employing an exercise program designed to increase muscle mass, they will gain weight from the muscle. It would not be fat though.

11. Are elliptical machines good for weight loss?

Elliptical machines are absolutely tremendous for weight loss since they incorporate every muscle of the body in the workout which enhances calorie burning potential.

12. How to workout on weight machines?

Working out on a weight machine is really not too far removed from how you would workout with traditional free weights other than having to deal with a stationary device and one that is limited in terms of the angles it hits. Apply the appropriate amount of weight and do not overdo it and you workout should go fine.

13. Should athletes use weight machines?

Yes because these machines can be employed to increase strength and muscular endurance. Both of these components can then contribute greatly towards improving athletic performance.
Have A Great Story About Weight Training Equipment?
Do you have a great story about Weight Training Equipment? Share it!
What Other Visitors Have Said - Weight Training Equipment
Click below to see contributions from other visitors to this page...

How To Use Leg Press Machine as a Shoulder Press

Using a Leg Press Machine to do Shoulder Press Exercise can be a big advantage. Learn how to do Shoulder Presses with Leg Press Machine. Leg and Shoulder …