Total Gym Exercises - Total Gym Workouts for Complete Body Training
Watch This Free Video Before Anything Else !
Why are Total Gym Exercises so effective
Total Gym Exercises and Workouts for total Body Training. Use these Sample Workout Programs to achieve a total body training in your gym using Barbells, Dumbbells and Gym Machines.
---
Whether you are using a Total Body Workout or Split Training Routine, these exercises will give you a total gym training leaving no body part untrained.
From major to minor muscle groups these workouts train all muscles equally for a complete physique with no weaknesses.
Total Gym Exercises
Here are my 5 Best Total Gym Exercises for major muscles.
Bench Press, Shoulder Press, Barbell Rows, Deadlifts and Squats.
More Exercises in the Exercise Database Section.
5 Best Minor Muscle exercises
Barbell Biceps Curls, Lying Triceps Extensions,  Forearm Curls, Calf Raises and  Abdominal Crunches.
Total Gym Workouts
You can choose from Full Body Workouts or Split Training Routines.
Also use the Workout Database for more workouts per body part.
ExerciseGoals.com Recommends the Best Exercises ebook...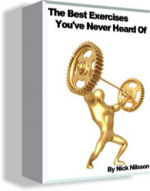 Just click here to find out 53 new innovative exercises to eliminate boredom, plateaus from your workouts and take your workouts to next level.
Common Total Gym Exercise and Workout Questions and Answers - FAQs
1. Any Exercises to do on Weider 8630 Gym?
There are very few exercises you cannot perform with the Weider 8630 Gym. This is a very comprehensive system and it is one that can easily be used to handle slightly modified versions of the exercises traditionally performed in the gym. The same beneficial results can be acquired from this excellent system.
2. Why is gym class important?
The reasons why a gym class is important to attend would be almost too numerous to list. Some may enjoy attending the classes in order to receive proper instruction on how to work out. Others will like to attend the class to experience a boost in motivation. Others might enjoy the fact that the class provides them with insight into new workout methods that are being developed.
3. How to do bicep curls on a Weider home gym?
Using the bar or cable attachments, you would curl the weights in the same manner you would curl dumbbells or barbells. This means you would slowly bring them to your shoulder level and lower them in a controlled manner to the belt area.
4. My gym partner is a monkey. What to do?
If you find it difficult to train with your current partner then you are well advised to find a new one. It will not do you any good to workout with someone that is not conducive or beneficial to your own goals in the gym. On the other hand, if the gym partner's approach is not problematic to you, don't worry about his behavior.
5. How to use gym equipment
The most basic answer would be gym equipment needs to be used properly. You always want to use the equipment in the proper manner. This would mean full range of motion and with proper form to get the maximum benefit out of the equipment. You may also wish to use the gym equipment in such a way that adheres to all common sense levels of safety.
6. Can palates be done on gym machines?
There is precedent for this. Seeking the advice of someone that has experience with the proper way to perform such exercises on a palate machine is advised.
7. I want information on how to open my own gym?
Information on this subject is available through a number of online resources. It is advisable, however, to contact organizations run by gym owners. These professional organizations can provide a literal treasure trove of information on the subject of opening, managing, and owning a professional gym.
8. How much would it cost to open a gym?
This can vary depending upon the particular school you wish to open. The size and scope of the gym will contribute significantly to the costs associated with it. In general, it will certainly cost well into the six figure range when all costs are compiled to pay for all the various expenses are covered.
9. Is the Total Gym Cyclo Trainer worth it?
Yes, this is quite an excellent device that can be employed to get a solid workout. Mostly all the items in the Total Gym product line are of excellent value. As long as you workout on the device in the proper manner with the right amount of consistency, you will succeed with your goals.
10. Can you wear easy tone shoes to the gym?
Unless the gym has a specific policy barring you from wearing a certain pair of shoes, there really is no reason why you couldn't wear Tone Shoes. Always double check with the policies of a gym you sign up with to ensure you are in compliance with any dress requirements that may be present.
11. How to clean gym equipment?
Gym equipment needs to be sprayed with cleaning solutions that will kill bacteria. You will also need to wipe the gym equipment down thoroughly with a dry towel. Do not soak the gym equipment and then avoid drying it because this would lead to the equipment rusting.
12. Suggest name for gym?
Careful deliberation needs to go into selecting a name for a gym. You will want to select a universal name that is easy to remember and quite marketable. Brainstorming could lead to coming up with a decent name. No matter what name you do select, perform research to ensure no one else is using the name. You do not want to infringe on other's trademarks.
13. Is it better to eat before going to the gym or after?
This is a personal preference and if you are doing a light workout then it should not matter. If you plan on doing a very hard and strenuous workout you would probably be better off eating after your workout sessions. This will avoid the unfortunate issue of getting sick in the gym.
14. How to do chin ups on a Total Gym?
A Total Gym should come with its own chin up bar. The bar should be effectively securing to the system and the system should be constructed in such a way that it is completely stable. If the system is safe to work out on, you can perform your chin ups as you normally would.
15. As a beginner how long should I work out at the gym?
Beginners basically would be well advised to avoid working out in the gym more than one hour at a time. Doing more could lead to over training. The only way this could be expanded would be working a half hour cardio session in the morning and then hitting the gym to lift weights in the evening.
16. ANY Gym class games that are fun?
Pretty much all the gym classes are fun. Even those over the top bootcamps can be a lot of fun if you are into super tough workouts. The most oft cited classes at gyms which are considered fun would be cross fit, cycling, power yoga, cardio kickboxing, and step aerobics. There are many more that could be added to the list as well.
17. What kind of shorts to work out at gym?
Surfing style board shorts are probably the best. MMA style shorts are identical to surfing shorts and could be used as well. Basketball shorts are not stylistically popular in the gym but they are a good choice as well. Generally, you will want a decent pair of gym shorts that do not restrict movement in any way.
18. What to know about gym or health club ownership?
Those looking to invest into the ownership of a gym need to realize such a business is highly competitive. It may require a significant financial investment that could take time to recoup the money invested. Also, management companies may need to be hired to handle billing and other issues the owner is not familiar with.
19. What to wear to the gym?
You need to wear lose clothing that will not restrict your range of motion. Some may wear tight compression style pants but these can cause circulation issues. Wearing jeans is a bad idea because they are far too restrictive in terms of your ability to move.
20. How to create a workout program at the gym?
Performing your own research would not be a bad idea. You could always read the bodybuilding and weightlifting magazines and books on the market which offer scores of tips on the subject. It also would not hurt to ask the trainers at the gym if they could provide you with a decent workout program for your needs and experience level.
21. How to set up home gym?
Following the assembly instructions provided on the print manual or a DVD is a must when you wish to effectively assemble a home gym. You will need some basic tools in order to effectively put the gym together but this should not prove all that difficult. Just take care to ensure the finished result is sturdy.
22. How to use a home gym system?
Most home gym systems are set up with hydraulic weights which are connected to a pulley system. You can adjust the weight and the tension on the pulleys appropriately for the workout you decide on...mass, definition, strength, etc. Basically, any workout that could be performed in a traditional gym can be modified for use in a home gym.
23. I go to gym and still don't lose weight?
The reasons for this may vary. If you are developing leans muscle mass, you will see weight increase of stay the same even though you are burning up fat. If you are not burning up fat then you may need to invest more time on cardio work and circuit training.
24. Is it good idea to go to gym everyday?
Going to the gym each and every single day can prove to be self-defeating. You may end up overtraining would could harm and undermine your goals. It would be best to have one or two rest days during the week to avoid dealing with such issues of overtraining.
25. Am I going to have hard time if I quit my gym membership?
This depends on the type of gym membership you have. If you are locked into a contract you may have to pay a fee to be released from the contract. That might be costly but it will help you avoid having to deal with collections reps.
Why not share your favorite Killer Workouts with Us?
Do you have your own Weight Training Workout proven to work for you? Why not share it with us and help others reap similar rewards from your workout.
Read more Visitor submitted Workouts and Tips
Click below for more workouts and user tips.

Go Back to Top of Total Gym Exercises and Workouts Page

Home
›› Total Gym Exercises and Workouts