Kickboxing - Kickboxing Cardio Fitness Tips for Fun Aerobic Workouts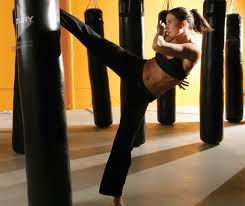 Kickboxing is a new and fun way to cardio fitness. Bored with regular aerobics, then its time you give Kickboxing a try. These simple tips will get you started and shed some fat in a few weeks.
Other Names for Kickboxing - Kickboxing Aerobics, Aerobic Kickboxing, Cardio Boxing and Aerobic Boxing.

Kickboxing - Just a fitness fad or real cardio training ?
Many people including you would be skeptical about anything new on the market for weight loss and aerobic fitness and you should be. But after lots of research and training I have found that Kickboxing is a fun way to cross-train for cardio fitness.
Also learning a few common kicks and punches will help you develop basic defense skills. No wonder kickboxing is popular among women.

In this section you will discover,
What is Kickboxing and How does it help you get fit?
How to get started with Kickboxing today
Excellent Kickboxing routines for free
How to select Kickboxing Classes and choose the right one.
Special Tips for Women Kickboxers who want to get in shape.

What is Kickboxing
Kickboxing is actually a cross between Boxing, martial arts and cardio training. It gels well together as it provides excellent cardio benefits and ideal for cross-training. And if you have seen kickboxing you will believe that it has excellent strength advantages too.
Most commonly kickboxing is a group-led activity. and uses a combination of martial art kicks, punches, jabs and various combination of these. You can either use boxing gloves and punching bags or do shadow boxing without any equipment.

How Kickboxing helps you with Cardio fitness goals?
As you have learnt kickboxing has both a strength and aerobic component built in, it helps both you strength and endurance goals, makes muscles and heart strong.

More Kickboxing Articles
Common Visitors asked Kickboxing Fitness Questions and Answers - FAQs
1. What is difference between cardio kickboxing and kickboxing?
Kickboxing training is designed to teach you how to fight in the ring for competition. Cardio kickboxing is designed to burn fat and boost cardio health. Cardio kickboxing is not a combat sport.
2. How calories burned with kickboxing exercise?
One hour of kickboxing training at high intensity can burn 900 calories in an hour. A low intensity workout can burn 200 - 300 in an hour.
3. What the best cardio kickboxing video for beginners?
That classic Billy Blanks Tae Bo workout never goes out of style because it is the perfect introduction to the science of cardio kickboxing.
4. Does kickboxing get rid of flabby upper arms?
Kick boxing burns off fat evenly throughout the body so, yes, it would get rid of flabby upper arms.
5. How long kickboxing lose weight?
Kicking will help you lose weight almost immediately. Three sessions of kickboxing workouts per week might get you totally ripped in a few weeks. Just be mindful of your diet to help maximize such an outcome.
Go Back to Top of Kickboxing Fitness Page
Go from Kickboxing Fitness to Weight Training Homepage.
Have A Great Story About This Kickboxing?
Do you have a great story about this? Share it!