How to select Kickboxing Classes and choose the right one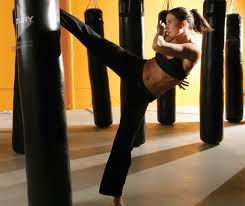 There are dozens of Kickboxing classes in major cities in US and Canada. Use these tips to see which ones qualify for your goals and select the one right for your type.
Although group-led kickboxing classes are popular, a few personal trainers also do one-on-one sessions.
Here are a few important tips on selecting a Kickboxing class.
Ask if the instructors are properly educated to teach kickboxing programs. Most instructors have boxing or martial arts training.

Its also important the instructors help you begin and then progressively incorporate safe yet challenging exercises as you progress.

If you get a chance for a demo class or a chance to visit the class first, do note if the classes are fun, safe and challenging. Can you do them?

Does the instructor modify movements depending on the needs of the participant?

Does the instructor classify people in to beginners and advanced and plan classes for everyone accordingly? You don't want to be caught up in a class too high for your level.

Although not necessary, it is a motivation if the classes have some music.

Last but not the least if you have a chance to talk to a participant then by all means ask for their review.
Just a few days back I received an email from a visitor telling me how she was going to quit her kickboxing class as the instructor kept laughing at her moves. I will relay her story at my new blog after she permits me to.
Now that you have decided to get on with Kickboxing, lets move to ... The Beginners Guide to Kickboxing for Fitness.
Related Kickboxing Articles
Back to Weight Training Homepage.