Muscle Building & Weight Training Meal Plans | Breakfast, Lunch & Recipes
Tips on Planning your Meals forBreakfast and Lunch to Build Muscle. Weight Training Shakes,drinks and Recipes to create your Muscle Building Nutrition plan work.

Eat to Build Muscle Mass is simple but not easy. In theMuscle Building and Weight Training Diet Section you have discovered the absolute best method to calculate your daily caloric requirements and in theMuscle Building Foods Section you learnt the best foods to eat.

Here i will give you tips on planning your Breakfast, Lunch, when and how to use Muscle Building drinks and Shakes. And if you love to cook I will provide a few best tasting Muscle Building Recipes.

Eating to Gain Muscle Mass is often termed difficult. It is difficult if you see it as a chore. But if you see it as great way to provide your body with the best nutrients to Build quality Muscle mass then its more of a joy than work.

And most importantly if you are eating the right foods then it not only builds muscle but also nourishes your body providing you with high energy so vital in our everyday activities.

The Nutrition guidelines I have mentioned here are not only meant to Build Muscle but they can very well be used as nutrition guidelines for your life. And most importantly they work. So use them and don't be fooled by their simplicity.

Now Jump in the Related Sections and let's get started.

Muscle Building Breakfast and Meal Planning Tips
Muscle Building Shakes and Drinks
No Nonsense Muscle Building by Vince Delmonte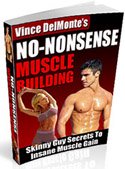 Vince Delmonte's course is also called "The Skinny Guys secrets to Insane Muscle Mass".
Read a complete review of No Nonsense Muscle Building.

Back to Weight Training Tips Homepage.
Have A Great Muscle Building Tip, Exercise or Workout?
Do you have a great muscle building tips that worked for you? Share it!