Your First Pull-up workout - A Body weight Exercise start-up
Watch This Free Video Before Anything Else !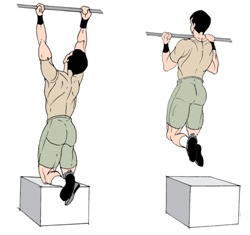 Want to start Bodyweight Exercises and cannot do even one pull-up? Use these modified pull-up exercises and get started on your Bodyweight workout for muscle and strength, anytime and anywhere.
---
In the Bodyweight Exercises section I mentioned Pull-up to be an excellent exercise for chest, arms and shoulders. Its a basic exercise every exercise enthusiast should learn how to do.
Unfortunately a few of you asked me that you cannot do even one pull-up. No Problem! You can try modified or assisted pull-ups until you get the strength to do full body pull-ups.
Assisted Pull Ups - Your starting place
The best way to get started are the chair-assisted pull-ups where you place your legs on a chair and perform the pull-up. You should as little assistance you can from your legs and perform as many pull-ups as you can.
Forget the prescribed number of sets and concentrate on doing 25-50 or more pull-ups. Target this number no matter if it takes 5 or 20 sets!
Your strength will improve over time. So please be patient.
Related Article - Bodyweight Exercises
Bodyweight Exercises
Workout Without Weights Program
If you want to have the best Body Body you want using Bodyweight Exercises then there is no better expert than Eddie Lomax.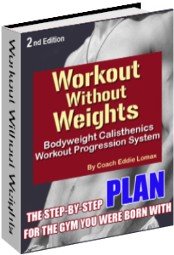 Click here to find out more Bodyweight Exercises.