3 Best Leg Toning Exercises for Women
How to get toned and firm legs
Toned legs are every women's dream and these 3 best leg toning exercises will help you get firm, toned body and help you lose weight.
Women are, in nature, vain especially when it comes to their body. Generally speaking, whatever our height or build is, we all want to have legs that are shaped in likelihood with the magazine cover girls.
We may not be blessed with those long legs models have, but we can always have a well-toned calves and thighs, which is helpful in boosting our appearance and our self-confidence.
To get us those beautifully sculpted legs, here are the best 3 leg toning exercises not only for women but for all who seeks to improve their physical appearance:

Calf Muscles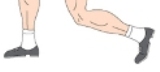 To do this exercise to strengthen calf muscles, position yourself facing the wall and stand about twelve inches away from it. Then extend your one leg behind you while keeping both of your feet flat on the floor.
Lean towards the wall until you feel the tension in your calf muscle and try to hold it for about ten seconds then repeat with your other leg.
Our calf muscle is located at the back of the leg just below our knees.
Stretching our calf muscles is important since when this muscles tighten, the Achilles tendon may tear, thus increasing the risk for injury.

Hamstring Toning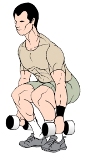 Have dumbbells in hands while on squatting in air position. Try to keep holding the dumbbells for a few seconds then go back to original position.
This exercise is aimed at adding strength to legs and increasing leg flexibility. Hamstrings are the muscles behind our thighs.
This is usually the part that is difficult to tone that also requires considerable amount of opposition to build strength.

Leg Extension Exercise
To start this exercise, you should straighten your legs forward then tightening your muscles while trying to lift your legs.
Stay in that position for a few seconds then slowly returning back to the original position. This is aimed at working out the front of our thighs.
There is a machine version of this exercise that uses a lever with front bar that is padded and pushed upward with the use of extended legs.
In doing this exercise, one should take note that the back should be pushed back very firmly in the backrest. Heavy weights are a no-no in this type of exercise. The load should be kept to a minimum. Bear in mind that if your knees are hurting, stop doing this or don't do this exercise at all.

Workout frequency for leg workouts
For leg toning exercises, it is good to start with two to three workouts per week.
It is important to note that while doing leg exercises, we should always protect our knees since risks of injury are unavoidable.
What is good about doing leg exercises is that it doesn't need any special machine and you need not go to the gym. You can always do this at the comforts of your home or even in the office.

Discipline is the key to toned body
In all kinds of exercises, no matter how many of it you have actually tried, still it won't yield any fruitful results if you are not to discipline yourself.
Exercise is to be done routinely, and in regular basis. Toning the legs does not require extensive and vigorous exercises. You can always do these routines even while watching a television or listening to music. Simple daily exercises will result in well-toned legs and get rid of those eyesore flabby legs.
ExerciseGoals.com Recommends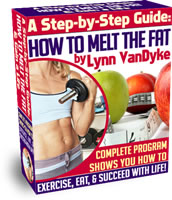 Click here and start Melting your Body Fat Now!
Back to top of Leg toning exercises for women.