I've lost 30 pounds so far, but you need to exercise AND diet!
by Tamra
(Ventura, CA)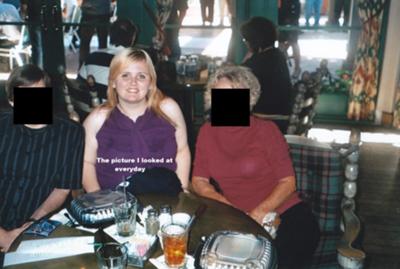 The picture I looked at everyday
About 3 months ago I went with my grandmother and fiance to a nice restaurant and had people take pictures of us as a group. I've always been pretty thin, and even though I knew I was gaining weight gradually, I had no idea what those pictures where about to tell me.


I looked so much bigger than I could have imagined, and it took a camera to tell me! MY wedding was going to be in 4 months, and I didn't want to look like THAT!! That was my wake up call for change.
I needed to set up some sort of plan to start dropping pounds for my wedding in December. (One more month!)
Here's how I did it! And some problems to avoid..
The exercise:
I started to exercise, ALOT! I should've eased into, as some people say, the faster you go into it, the faster you'll quit. But just to make sure I didn't, I looked at this picture every day! Of how disguising I looked.
Well, I shouldn't have went from barely ever walking to running 4 miles a day for 2 weeks straight, because there's an awful pain you can get from this thing called shin splints, that can cause severe damage to your legs.
I had to start bicycling instead, and could not even jog for the next 6 weeks! When I started up again, I just power walked for 30 minutes a day, then switched from jogging to running for about 30 minutes a day.
Now I can jog the whole 30-45 minutes! (I do this outside, in the morning with the help of my mp3 player, as I find the treadmill is very boring). As for weight training, I do it 3 times a week. Keeping the weight barely challenging enough to do 3 sets of 13 reps (slowly).
After a month or so, I started go on youtube and look up pilate videos to do for about 30 minutes on the days that alternate the weight lifting days, jogging all the while.
The diet:
At first I made an attempt to cut down on fatty foods, and load up on protein instead. For you women out there, do NOT load up on protein! Your muscles WILL bulk up, especially in the arms! I noticed this about two weeks in.
So I switched to lots of fiber. Things like fruits and veggies, V8 juice, that sort of thing. I also switched to drinking only water, which I have to flavor with a slice of cucumber or lemon (as I've always hated drinking plain ice water).
But I still was losing hardly any weight after 3 1/2 weeks of the change! So, I decided to turn to a popular weight loss pill called alli / orlistat.
Before taking it though, I made sure to use a cleanser and start the diet that I had to be on for the pill before hand.. which is like 15-19 grams of fat per meal.
I'd heard some horror stories about eating too much fat and having oil spills in the pants along with some other unpleasant "poopy problems", but I decided to just be really careful (and be at home the first day or so).
Turns out, my "cutting down" on fatty foods, wasn't really cutting down as much as I thought!
I found that if I tried not to eat anythings fattening EVER, it seemed just enough. Though, you can use many alternatives like, egg white omelets, with chunky salsa, and reduced fat cheese.
Also, the healthy tv dinners (like healthy choice and lean cuisine)are a life saver when I don't have time to cook! They only have 3-10 grams per meal!
You'd be surprised how many fat free and reduced fat things there are, that actually aren't too bad tasting! So, after taking that pill for a week, i had lost 4 pounds!
I kept on taking it, and keeping up with the exercise and dieting, and after a couple months of all this, I have lost 30 pounds! I feel better about myself, my old clothes hang off me now, and I have gotten so used to eating more healthy, that I cannot stand even the smell of the fattening food I used to eat.
I used to drink only soda, and almost 4 cans a day! Now I can't drink it at all, and if I do, I feel really sick! Weird huh!?
Well, I hope I inspired you to start your weight loss journey! Remember, persistence is the key! Do NOT give up, because the weight that you can lose will change your life!