How Women can Bulk up Things and Legs
by Alison
(Wales UK)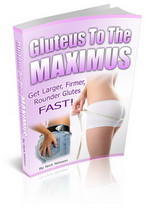 I am looking for exercises to bulk up my legs and thighs.



I have an apple shaped body type so am big on top and have funny little sparrow legs, weight loss always seems to come off the lower half and I can end up looking strong on top but with seriously out of proportion legs,



I would like some exercises to do each day when I get up just to bulk them up a bit, I walk a lot and then think is this going to make my legs even slimmer than they are, yes its odd a woman wanting bigger legs but they look weak and i am
prone to painful joints.



--------------



Hi Alison,



You can use the Butt Building Exercises like Squats and lunges.



Also if you want a complete program, do try the
Gluteus to
Maximus for Butt Building by Nick Nilsson here.

"Gluteus
to the Maximus" is an eBook about building larger, firmer, rounder glutes as quickly as possible. It contains exercises, programs and training advice targeted specifically to building up this area of the body.




thanks