Arm Burner exercise method to build biceps muscle mass
by John
(AZ)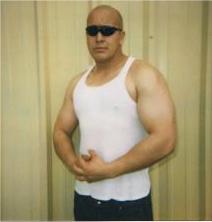 I am a firm believer in building muscle both by using heavy weight with low reps AND lighter(but not super light) weight w/ higher amount of reps...@ the same time.


My arms are my most developed body part, and although I have done a variety of routines to get where I am, the reason i have had such good gains with my arms (in my opinion) is because it is the only body part I did BOTH the Heavy/low reps with the Medium weight/Higher reps combo.
I plan to do the same with all other body parts...
I have 2 I use for Biceps...
One is a 3 way dumbbell stack.
I get the 80lb D bells, the 70's, and the 60's.
Starting with the 80's I'd do what I call crossover curls (start w/ arms to the side palms facing in and swing arms across chest upwards toward chin) for 6 reps each arm.
Then the 70's for 8 hammer curls each arm.
Finally straight curls (supinating wrist) with the 60's 10 reps each arm.
Do that for 3 to 4 sets.
End with what I called "Burnout curls"
Grab an EZ Curl bar, load each side with 4 dimes with OUT clips.
Carefully and slowly do 4 reps.
Drop 1 dime off each side (so there's 3 dimes on each side of the bar now) and do 6 reps.
Drop another dime (2 dimes on each side of bar) and do 8 reps.
Drop last dime (your now down to ONE dime on both sides of the bar) and do last 10 reps...it's light but it will be hard and it will BURN!
That's ONE set, after finish 10th rep reload and do 3 more sets.
By the way, these are after doing 3 to 4 Heavy weight Exercises...same goes for tri's.