Age & Muscle Development
by Phil
(Nottingham, England)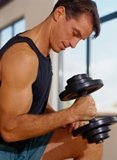 Is it still possible to add muscle once you get beyond a certain age? I've heard that people begin to actually shed muscle mass once they hit 50 & beyond.


Is it Possible to Build Muscle at any Age
It is not only possible to build muscle at any age, but it is also necessary if you want to keep a strong and healthy frame throughout life. This is because weight training makes the bones strong, rejuvenates the muscles and the skin and also gives you enough energy to go about your duties naturally until the very end.
Many people have been known to develop arthritis and pain from a relatively early age which makes movement difficult. It has been proven that those that engage in strength training have been known to reverse the onset of arthritis and have gained movement again in their limbs.
You can start at any age
You can start strength training at any age and you will definitely develop muscles. However while you are still growing as is the case with teenagers, you don't want to overwork your body so that it prevents you from partaking in other activities.
You have to make reasonable goals, learn the correct techniques and improve gradually work to improve your body gradually rather than trying to take on too much weight and increase rapidly. A gradual muscle growth is easier to maintain than a rapid development that is not maintained.
Most of the people that intensively train are those that are in their middle ages and that can withstand the pressure of a full workout program. This is where most bodybuilders for competition purposes fall. However if you are just building muscles for recreational purposes, you don't need to go all out to be too muscular. Regular training about once or twice weekly will keep you in good shape and also keep you in health.
People above 50 will find it hard to develop bulky muscles like the middle aged because as we grow older the elasticity of the body reduces and the hormones that cause muscle growth also gradually reduces. Though it is still possible to start training at this stage and still see significant improvements, it is usually better to work on the muscles so that they do not get degenerated as you grow older.
Working with weights will keep the muscles strong and firm, and will also help your body to carry out its metabolic functions effectively. It will keep you in health, enable you to sleep better and help you stay more actively engaged with your family activities and other interests.