Power Clean and Press Exercise for a whole body workout.
Clean and Press Exercise is a complete body workout involving almost all major muscles.
It is the Most Effective Full Body strength and conditioning drill. Check how to do Clean and Press Exercise to build shoulder muscles and total body density and explosive power.
Purpose -- To Build Muscle Mass and strength in the shoulders, upper body, quads, hamstrings, back, biceps, triceps and whole body power.
Did I miss something coz' Clean and Press doesn't !
Clean and Press Exercise involves the shoulders, legs, triceps, trapezius and back muscles making it a whole body workout and great for a total body workout if you are short on time.

Execution Technique - How to do Clean and Press Properly
This exercise is performed using a bar held in overhand grip. You can also use a Kettlebell.
Grips-- Hands are positioned shoulder width apart.
Steps.
Stance: This step is important because your stance will help prevent lower back problems in this exercise.
Step 1: Get into a squat position with thighs in parallel with the floor and grab the barbell with an overhand grip. Your head should be straight with your eyes focused in front of you.
Go deeper than shown in the picture.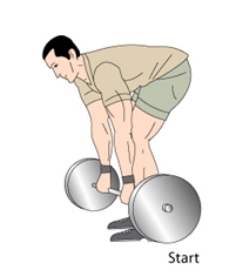 Step 2: Now using the legs lift the bar with arms straight up to shoulder height.
At this point you are at the starting position of shoulder press exercise. This is actually the midpoint position unlike the regular military press or shoulder press wherein you lift from the shoulder height.
Step 3: Now press the weight overhead, pause for 1-2 seconds then bring it back to midpoint position.
Step 4: Just reverse the cleaning movement and get the weight back on the floor.